Larry Broder Biography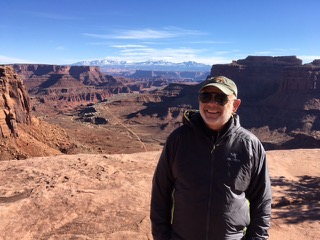 Larry Broder, an Asheville NC area based photographer who grew up in Connecticut and recently moved from Vermont, has been practicing his craft for more than 35 years. In the early days of his career, he chose to study under a different well-known photographer every year for ten years. Larry studied under Ernst Haas, John Dominis, William Curtsinger, Philyp Hyde, Bill Haywood, Boyd Norton, Ron Rosenstock, and for six years, Steve Crouch, who took Larry under his wing and taught him the finer art of photography. Steve Crouch was a friend of Ansel Adams and taught at the Ansel Adams Workshop in California.
Larry has traveled widely throughout his career, including three trips to Africa, over a dozen trips to Alaska, two trips to Churchill ,Manitoba to photograph polar bears, and many trips to the southwestern United States. In addition, he's gone cross country skiing and photographing in Yellowstone National Park, backpacking and camping the length of the Baja Peninsula, sailing and kayaking in search of whales, and kayaking for nine days along the coast of Ellesmere Island, which is off the coast of Greenland. Most recently, he traveled to Morocco and to Peru, two trips that were the catalyst for a major change in Larry's photography. Larry just retuned from his third trip to Iceland. In 2015 Larry also visited the east coast of GREENLAND and in Sept of this year will make his first trip to Scotland.
Larry has always enjoyed his wildlife photography, presenting each subject with a dynamic clarity and a sense of seeing for the first time. But, in the past years Larry has started to create images, both abstract and realistic, with a clear sense of blurring the lines between photography and painting. In all of his work, Larry respects the honesty of his subject, which is reflected in images that are direct and free of pretense.
When friends ask what changed his photography, Larry answers with one word, MOROCCO. According to Larry, "I remember clearly the excitiment of having my eyes flooded with the unfamiliar intensity of the color in clothing, buildings, walls, windows and even a simple basket of rags sitting along side a road. Everything seemed more vivid to me - - colors, lines, angles - - and it seemed everywhere I turned there was an image to be created!
In addition to taking photographs for many travel companies, and having many one-man shows, Larry has been published around the world while working for the Discovery Channel. His work has been seen everywhere from Vermont Adventure Magazine to Life Magazine , People Magazine to the New York Times, and has won many awards including the worldwide Nikon photo contest.
Along the way Larry has also found time to graduate from the Green Mountain Wilderness Survival School, the SOLO backcountry medicine course and earned a 3rd degree BLACK BELT in Karate, along with BLACK BELT instructor grade in full contact KICK BOXING and a BLACK SASH lst degree in Kung Fu. Larry also served with distinction in the US Army serving in Army Intelligence for 4 years in Europe